Wholesale Frozen Food Suppliers
Fine Food Wholesalers NZ helps you search for leading frozen food wholesalers and suppliers. We regularly update our listings of wholesale frozen food suppliers who can supply your restaurant, delicatessen, convenience store, supermarket and other foodservice business. Check back regularly as Fine Food Wholesalers is always locating more of New Zealand's best wholesale frozen food suppliers to keep you informed.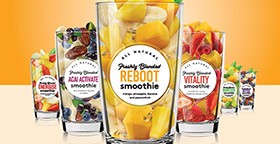 SER!OUS Smoothies offer a range of easy-to-prepare, all-natural wholesale smoothie blends for use in cafes and other foodservice businesses. Available in several variants, each is supplied in a single-serve pouch. Simply add contents to blender, add desired liquid - milk, plant-based mylk, juice, water or coconut water - and blend! All are gluten free, vegan and contain no added sugar.
View more information and contact details