Wholesale Meat Suppliers
Your New Zealand online directory of the country's best wholesale meat suppliers, meat wholesalers and meat distributors for your restaurant, deli, food manufacturing enterprise, supermarket or other foodservice business. If it's available in New Zealand, you'll find it at Fine Food Wholesalers as we continue to grow our listings. You'll find beef, poultry, game meats, goat and other exotic wholesale meats and have your choice of organic, grass fed, grain fed and free range. Be sure to check back on a regular basis to see what's new in our wholesale meat suppliers listings.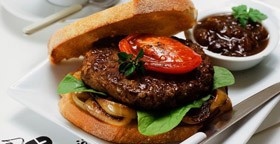 Using only the finest ingredients, Angel Bay delivers a premium range of divine quality and heavenly tasting products. Our product range includes premium beef and lamb patties, meatballs, rissoles and bites that are made from 100% pure New Zealand beef and lamb. We also have low fat, gluten free and halal options.
View more information and contact details